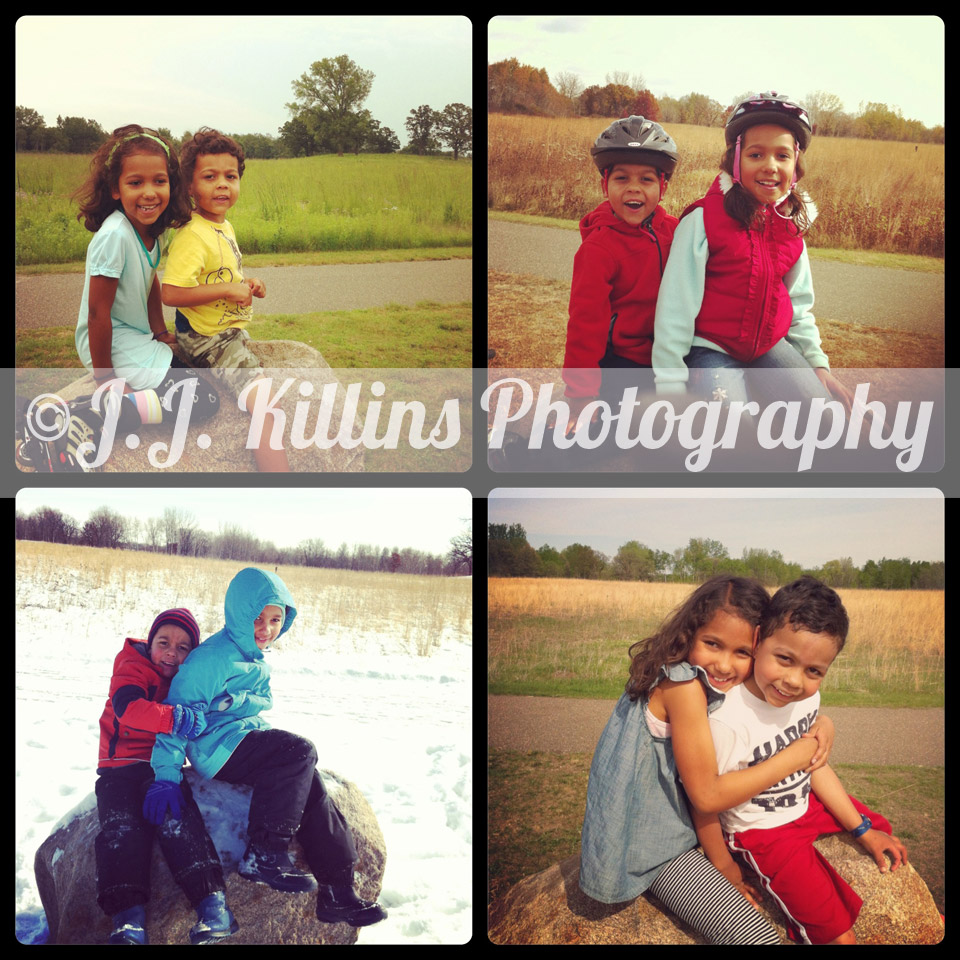 About a year ago, I embarked on a small but fun and EASY personal photography project as yet another way to document my children's growth. We have miles of lovely path near our Shoreview home that we use regularly for running, biking, and often as a scenic (longer) route when we bike home from my daughter's school.
We always pass this big boulder, which we call, simply, The Boulder. Whenever we pass, it, I am reminded of my daughter's years of loving the movie Shrek, in which Donkey says, That is a nice boulder. I know you can hear Eddie Murphy saying it now.
As my youngest got older and more able to climb, they were both scrambling for a chance to sit on top of it on our way home. Luckily I had my phone to document the quick break in our ride. That was in March of last year, which I thought could be a "Spring" shot, followed by Summer, Fall, and Winter shots.
Well that was 2012, when Spring came early and warm, even if it didn't look much different than Winter, except for maybe some missing white stuff.
Because it didn't look so different from Winter, I decided to start with Summer 2012 and get a seasonal shot, on The Boulder, until we had all four seasons.
It is very hard to wait a year for a photography project to be complete!
Alas, we have finally been blessed with the colors of Spring, and last week we completed our series of Shoreview Boulder Photographs. I cannot wait to turn this into a canvas and hang it on the wall! It shows my children's growth, sure, and the seasons, obviously. But I also have a specific memory of each shot, of the weather from each of these days, where we were, what we were doing, which one I took with Daddy standing beside me.
It's certainly not a fancy photography project, takes little skill, wasn't planned. It is no less important, however, and perhaps even more so, because it something we can all start today.